JOIN THE HULAFIT REVOLUTION
You could be part of a fast growing community of certified trainers globally teaching the exciting HulaFit® program.
By becoming a certified HulaFit® Instructor, you are providing an alternative, fun new way to get fit and healthy for fitness enthusiasts and fitness-phobes alike!
HulaFit® is a brand new fitness frontier, you could become one of the world leaders in this highly effective and infectious fitness revolution!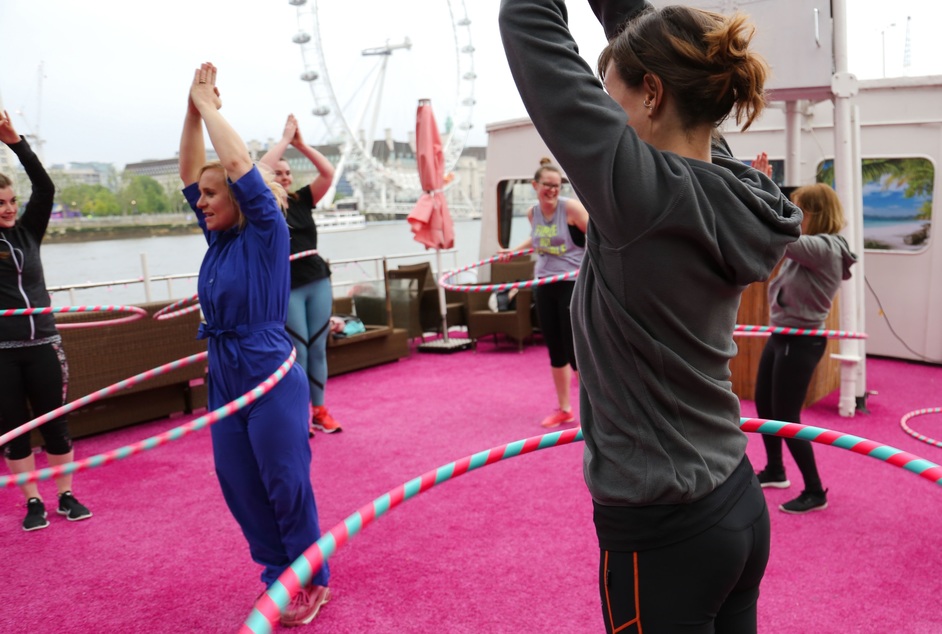 Pre-Requisites for applying for the HulaFit® Instructor Training Course:
Level 2 or higher fitness qualification if you are a fitness professional
AND/OR
Can demonstrate an industry recognized dance qualification ie Zumba or relevant Hula Hoop Teacher training qualification
AND/OR
Can demonstrate experience of Hula Hooping equivalent to 5 or more HulaFit classes or similar attendance to another Hula Hoop course/class

If you have an extensive background and knowledge of hula hooping then we'd be keen to hear from you if you are interested in attending the HulaFit® Instructor Training Course.
Apply for the HulaFit® Instructor Training course – Now available Online!
10 hours of theory & practical training delivered through a combination of Livestream face to face sessions & online home study units which takes place over the course of a month. To earn your Certificate of Achievement you must pass a recorded teaching demonstration assessed at the end of training.
You must be available for 3 Livestream Zoom Sessions, listed below dates/times:

NEW ONLINE TRAINING DATES:
Autumn : Sat 18th September, Sat 2nd & 16th October. Winter : Sat 13th & Sat 27th November & Sat 11th December. All Livestream sessions 10.00am – 12.00pm BST (UK time)
Obtain hands-on teaching experience, specific business & marketing advice, a FREE HulaFit® Hoop* & a digital HulaFit® Training manual.
Teach an industry recognised class! Our course is endorsed by EMD UK, the national governing body for Group Exercise and Dance Fitness.
Scroll down to find out if you are eligible for funding towards your HulaFit training, or if you would like to achieve a Level 2 fitness qualification at the same.
Once certified you'll have the opportunity to pursue a career as a HulaFit® instructor, become a Core Crew member and access follow-up training with HulaFit® to expand your hooping skill set and build your business!
Core Crew HulaFit® Membership:
HulaFit License to launch and teach unlimited Hulafit Classes anywhere in the world.
Access to our Core Crew Instructor Hub packed with essential resources for instructors; includes video bank of HulaFit® techniques, class playlists & downloadable lesson plans.
Instructor listing on HulaFit.com with personal profile, class listings and contact details
Access to an exclusive Facebook Core Crew support group & 1:1 support from a HulaFit mentor
Annual Core Crew HulaFit® CPD day; to expand your Hoop skillset & connect with the growing UK HulaFit community
HulaFit® Core Crew T-shirt

HulaFit License & customisable printable marketing materials
30% discount on our HulaFit® Hoops & Merchandise + Bulk Buy Offers
Find AN INSTRUCTOR training course
If you would like to book multiple instructors on a course or have a query please contact us on: [email protected]
Autumn 2021 Training Session:
Sat 18th September, Sat 2nd & 16th October: 10am-12pm
Payment by installment is available. Applications close on Friday 10th September @ 5pm.
Winter 2021 Training Session:
 Sat 13th & Sat 27th November & Sat 11th December: 10am-12pm
EARLYBIRD PRICE: £190.00*
*EarlyBird must end Friday 1st October @ 5pm.
Payment by installment is available. Applications close on Friday 5th November @ 5pm.
Our affiliation with EMD UK – What this means for you
Endorsement by EMD UK is an official seal of approval for our training programme and gives trainee instructors the confidence and peace of mind that the content has been verified by the National Governing Body for Group Exercise.
Are you longing to train with us, but other financial commitments are delaying you from booking on?
Then look no further, The EMD UK Academy Open Bursary Scheme can help! It's available to anyone wanting to take an exercise, movement and dance qualification, including our HulaFit Instructor Training Course.
We've also teamed up with EMD UK to give individuals one easy package and streamlined route to becoming the ultimate fitness instructor.
Combining HulaFit with either the Exercise to Music or Dance Fitness Qualification, these packages are a one-stop shop for aspiring NEW instructors – and thanks to the EMD UK Bursary, are also fantastic value for money!
The HulaFit/EMD UK Duo course consists of:
HulaFit Instructor Training (one day)
Your choice of entry level qualification either Level 2 Exercise to Music or Level 2 Dance Fitness (6 weeks approx of e-learning followed by 4 practical days at the course venue).
A year's teacher and instructor membership at EMD UK (including insurance!) once you qualify to give your new career the best possible start.