JOIN THE HULAFIT REVOLUTION
Are you ready to bring the hula fun to your local community? Become an instructor and join our fast growing team of instructors teaching the exciting HulaFit® program. 
By becoming a certified HulaFit® Instructor, you are providing a seriously fun new way to get fit and healthy for fitness enthusiasts and fitness-phobes alike!
HulaFit® is a brand new fitness frontier, you could become one of the world leaders in this highly effective and infectious fitness revolution!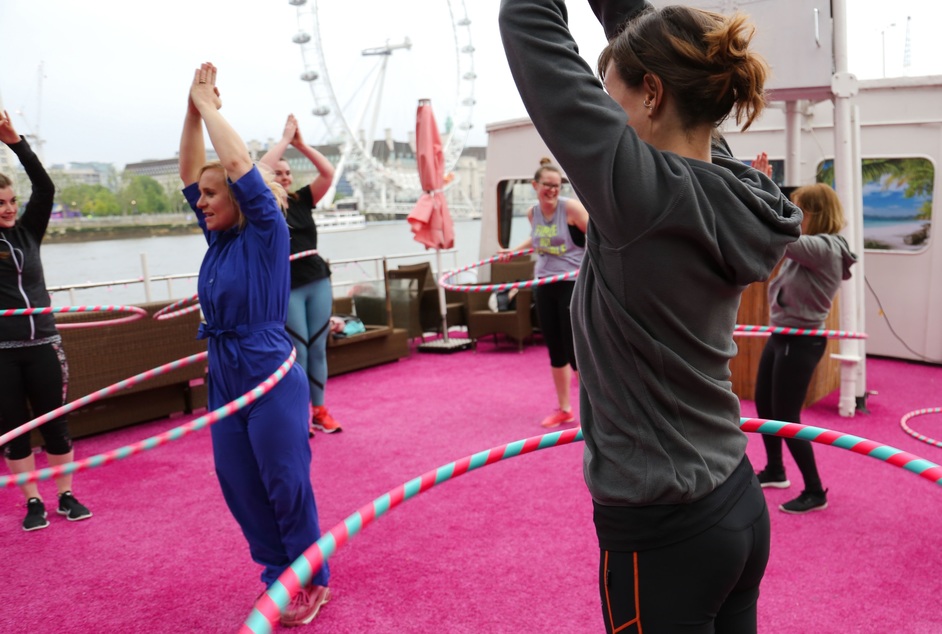 It's time for a childish fitness revolution
THE SUNDAY TIMES
Pre-Requisites for applying for the HulaFit® Instructor Training Course:
Level 2 or higher fitness qualification if you are a fitness professional

AND/OR

Can demonstrate an industry recognized dance qualification ie Zumba or relevant Hula Hoop Teacher training qualification

AND/OR

Can demonstrate experience of Hula Hooping equivalent to 5 or more HulaFit classes or similar attendance to another Hula Hoop course/class


If you have an extensive background and knowledge of hula hooping then we'd be keen to hear from you!
Find AN INSTRUCTOR training course
Our virtual Instructor Training consists of 10 hours of theory & practical training. This is delivered through a combination of livestream group training sessions & online home study units, which takes place over the course of a month.
If you would like to book multiple instructors on a course or have a query please contact us on: [email protected]
We are currently taking a break from running our instructor training programme – join the waitlist and be the first to know of new dates!
HulaFit Instructor Starter Kit*; equipping you with everything you need ready for instructor life. Including:
The Basics of HulaFit®; Learn our core techniques live and virtually through our online portal, with key tips on how to teach them safely and effectively.
The HulaFit® Teaching Model; Learn how to design a class so you can start teaching HulaFit immediately.
Hands-on teaching experience; Build your confidence and skills through live group teaching sessions with professional feedback from a master trainer.
Support throughout; Guidance from a master trainer and access to a supportive community as you set off on your journey to starting an incredible side hustle.
*Total Kit RRP £75.00
** UK based instructors only
Once certified you'll have the opportunity to sign up for your HulaFit® Core Crew licence so you can launch and teach unlimited HulaFit classes, hoop to the music you love, build a community and earn money!
Our instructor platform is exclusive to Core Crew members and packed with essential resources to help you build, teach and promote your classes. Inside you'll find stacks of videos of techniques, sequences and continued training with HulaFit® to expand your hooping skill set and build your business, all in one easy to use platform.
It also gives you access to HulaFit marketing resources with logos, templates and social media graphics, the Core Crew Shop with instructor-only merch, Hula Hoop packages, exclusive discounts & more! And that's not even mentioning our awesome Core Crew community, who has your back so you're never on your own.
FREE 14 day trial for all new instructors – with full access to our online resources and no payment taken until the end of your free trial period.
Save money with EMD UK – What this means for yoU
Did you know you can get £75.00 off your instructor training with us? It's true! As an endorsed member of EMD UK, the national governing body for group exercise, you could get money off your HulaFit instructor training.
Endorsement by EMD UK is an official seal of approval for our training programme and gives trainee instructors the confidence and peace of mind that the content has been verified by the National Governing Body for Group Exercise.