Hey! I'm Stefie I am at the moment based in the Netherlands.
I started my journey with hula hoops about 4 years ago now. I was actually looking for something different and fun to stay in shape and I was quite done with the "normal" gym when I found Hulafit classes. After my first class, I got totally hooked and since that day I am crazy about it! Not so long after I have also met Carla for my first hula hoop tricks classes and from this time to now I haven't stop hooping. Hooping is not only a good exercise but it makes me happy, it is fun and awakens the inner child that we tend to forget once we become adult. I am at the moment, offering online classes so drop me an email or dm me on Instagram for more details.
Social media
Instagram: @hulafitwithstefie
Chloe's been spinning the plastic circle around ever since she was small enough to simply see the hula hoop as a super fun toy.
She excitedly discovered all the fitness benefits through HulaFit as a somewhat childlike twenty-something. After being a regular at our classes, both in person and online from her roof, she realised she was well and truly addicted and trained to teach in 2020.
You can expect a banging vinyl-era inspired soundtrack, moves to sculpt and sweat, and even more smiles in one of her Brixton classes.
Social media
Instagram: @chloehoopla
Facebook : Tonbridge HulaFit
Based in East London, I deliver HulaFit workshops, family HulaFit sessions and 1:1 on request.
Social media
Instagram: @movewithbisi
Twitter : @movewithbisi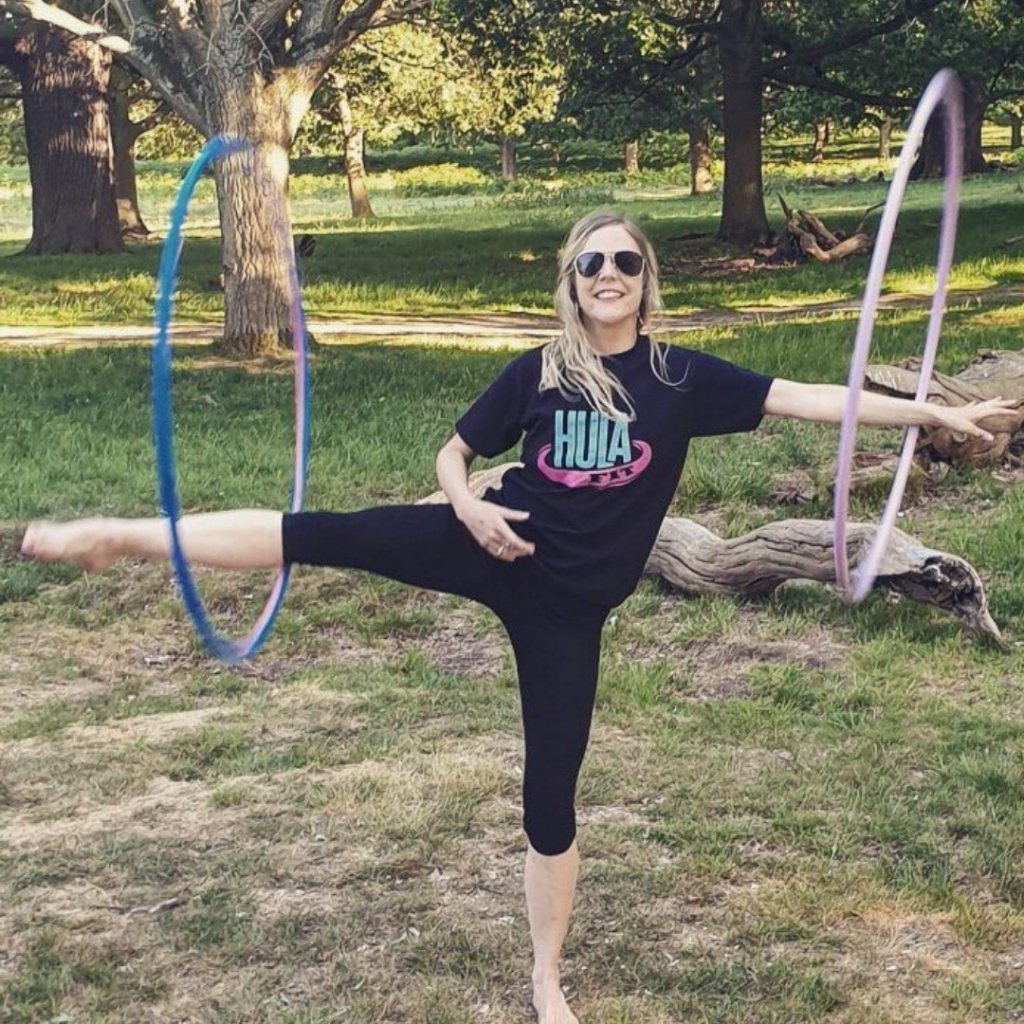 Hey!
Like lots of us, I played with a Hula Hoop growing up and I fell back in love with hooping as a 'grown up' attending Carla's Tricks Classes in 2016.
I love hooping and exercise is a big part of my life, so I decided to combine my passions and trained as a Hula Fit Instructor bringing Hula Fit to the Babs of Brum and The Black Country!
Weekly Classes are in Birmingham, Edgbaston and Wolverhampton, but I offer 1:1 / group sessions in other Midland locations and online. Classes cater for all abilities and fitness levels– no childhood experience necessary!
I am a Mental Health Nurse so recognise the importance of exercise for Physical and Mental Wellbeing – Holistic Hooping! I incorporate some philosophies of Mindfulness into classes and have a few Tricks up my sleeve…
Hoop to see you soon!
Sian J
Social media:
Instagram: @behoopy
Facebook: Be Hoopy
Moin! Ich bin Kaddi und eine der ersten deutschen HulaFit Trainerinnen. Als Kind habe ich stundenlang mit dem Hula Hoop gespielt und im letzten Jahr meine Liebe dazu wieder entdeckt. Seitdem gibt es für mich fast keinen Tag, an dem ich nicht huuler. Hula Hoop ist ein toller Ausgleich, er bringt Dich und Deinen Körper in schwung, macht Dich fit und bietet Dir ein großartiges Ganzkörperworkout! Aktuell biete ich meine Stunden montags Abends um 20:15 Uhr via Zoom an. Sobald das Wetter besser wird, finden die Stunden dann Outdoor auf dem Gelände des TSV Weddelbrook statt. Ich freue mich auf Dich! Kaddi
Hello! I am Kaddi and one of the first German HulaFit Instructors. As a child I played with the hula hoop for hours and last year I rediscovered my love for it. Since then, there hasn't been a day for me that I don't hula hoop. Hula Hoop is a great balance, it gets you and your body going, makes you fit and offers you a great full-body workout! I currently offer my lessons on Monday evenings at 8:15 p.m. via Zoom. As soon as the weather gets better, the lessons will take place outdoors on the grounds of TSV Weddelbrook. I'm happy for you! Kaddi
Social media
Instagram: @fitmitkaddi
Facebook: Fit Mit Kaddi