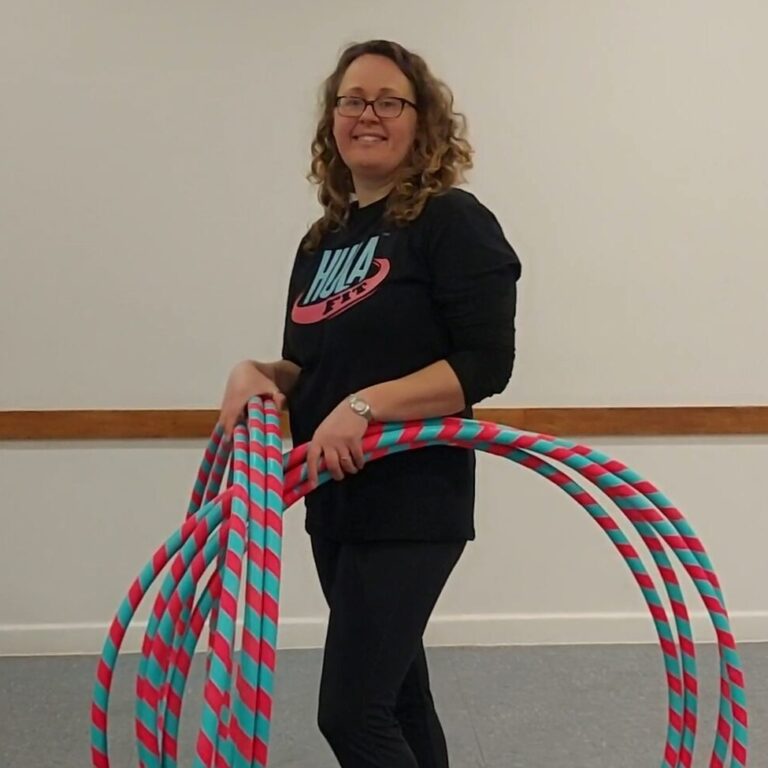 Hi, I am Kim I am a Mum of 4 and I have been hooping as a hobby for around 8 years- it is something that just makes me smile and the fact I can use it as my fitness is an extra bonus. Come and have fun hooping with me!
Social media
Instagram: @Kimhughes450
Hi there! My hula journey started back in 2014 when I saw someone performing with an LED hula hoop in a club…and I just knew I wanted to learn how to do it! 7 years later and I've finally turned that passion for fitness into something I can teach you! Hula hooping is fun, cool and really great for your overall fitness levels. I can't wait to see what it could do for you!
Online classes and 1:1 options available, contact me for more details.
Website: www.cazrockahula.co.uk
Social media
Instagram: @saturdaynightatthesmoothies
Facebook: Saturdaynightatthesmoothies
Daisy discovered hooping through attending her first HulaFit class and smiled from start to finish – she'd never found a fitness class she actually looked forward to before!
Daisy has taught in southeast London, online and moved to Brighton in 2021. Expect eclectic upbeat tunes and boundless energy as you shimmy your way through one of her classes!
Social media
Instagram: @daisyhulafit
Hey! I'm Steph, recently moved to Olney from London and I've been a HulaFit Instructor since 2018.
I originally went to a Hulafit class to try something a bit different for my fitness (As i'm terrified of the gym) and got completely hooked! Who thought exercise could be so much fun?! I hope to see you at one of my classes, you can also catch me on my socials below, be sure to say hi as I love getting to know people and see if I can help you achieve your own goals through HulaFit.
Social media
Instagram: @hulahoopologyuk
Facebook : hulahoopologyuk  Tik Tok : @hulahoopologyuk
Hello. I'm Charlotte and I offer in person classes to my local community. I've been hula hooping for 7 years and I can honestly say that I can't imagine my life without a hula hoop in it. It goes everywhere with me! It's such an versatile and fun tool for enhancing your health and fitness, for both your body and mind. I started my love affair with the hoop after seeing a lady hooping at a school fair. I was hooked from then on as I noticed it's benefits for myself. My body felt stronger, freer and more toned and my mood was brighter , even through out the winter months, if I just kept moving and hooping. I subsequently trained as a hoop dance teacher and then a HulaFit instructor as I wanted to bring these benefits to others. In my class I'm keen to encourage any age to learn to hula hoop, but particularly woman around the age of peri menopause and beyond. Having reached this age myself, I'm aware of the physical and mental challenges it can bring and the obstacles one may experience to keep on moving and exercising at this time in our life. I'd love to see you in class soon! Charlotte
Email:  [email protected]
Social media
Instagram: @charhoopalotte
Facebook: @thehoopelement
Hi, I'm Mica, I'm really excited about bringing the joy of Hula Hooping to my local area in Hove.
Hooping started as a lockdown hobby for me, but since then I became absolutely obsessed!
It's such a great way to have fun and meet the new friends. The hoop community are full of lovely people and I've picked up some great party tricks on the way!
Can't wait to bring some smiles, joy as well as great workout to whoever wants to join!
Social media
Instagram: @moonhoopsuk
Email: [email protected]
Hello. I'm Veronique and I offer both in person classes in central London and online classes. My classes are suitable for all hooping abilities – total beginners and the hooping fanatic alike! Hulafit really is for everyone I've loved hula hooping since I was a child and is was in 2020 that I took this passion and decided to do something with it. When I attended classes and completed online tutorials, all I could think about during these was how much I was smiling! Besides the overall fitness benefits, hula hooping can also help with wellbeing and it is this combination I aim to provide through my classes. Come and join me for a fun, joyful, full body workout accompanied by some classic tunes. You can absolutely do this. Remember, if you're moving, you're grooving!
Social Media
Instagram : @hoopwithv
I am passionate about health and fitness in all forms. I think fitness is for everyone and I believe fitness comes in all shapes and sizes. I started hooping during the first lockdown then continued during pregnancy. I am now an instructor looking to spread the fun of Hulafit and to show everyone Hulafit could be for you.
Social media:
Facebook – Staceydanielefitness Instagram – @staceydanielefitness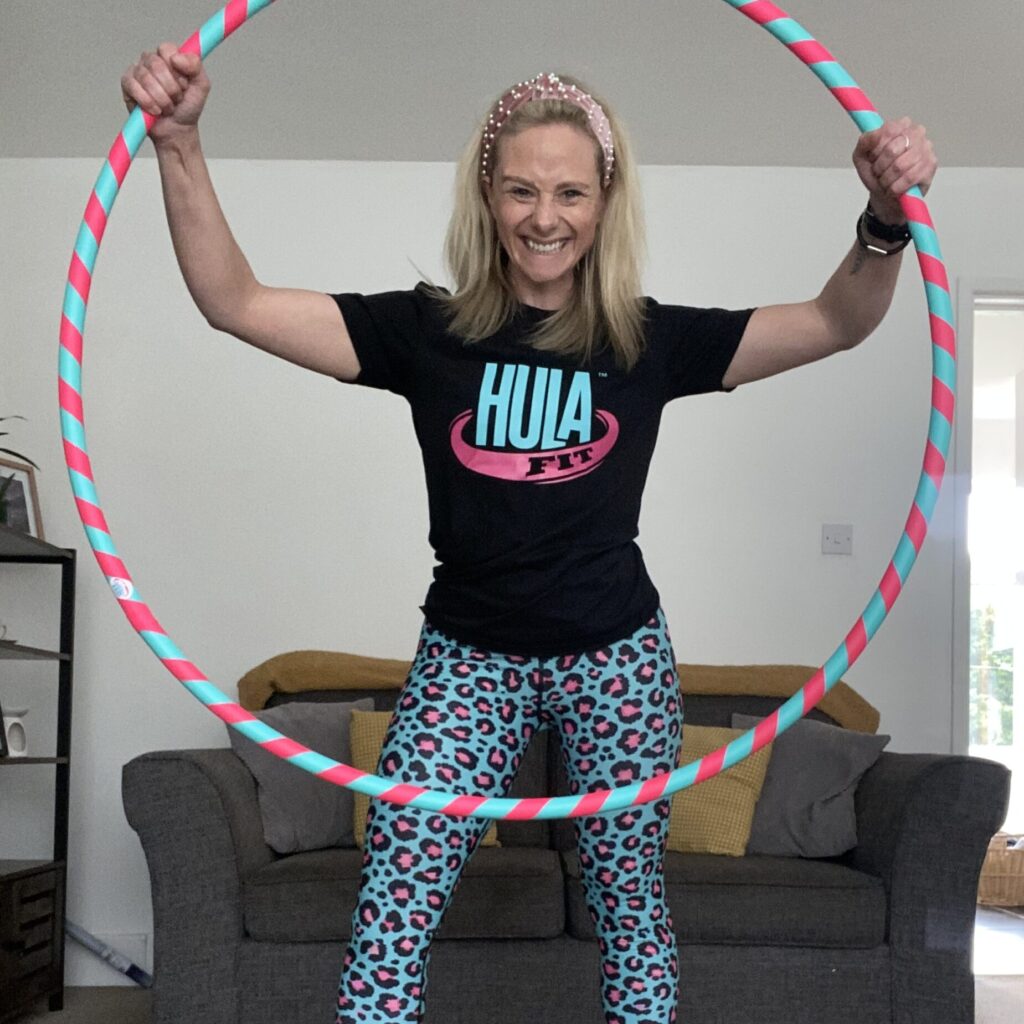 Hi I'm Amy from Nottingham. I am a drama teacher of 15 years with two lovely children and a pup called Frank.
My hoop journey started in summer 2019 when the only exercise I had ever done was running. And hooping meant I could do it from the comfort of my own home, because I wanted to lose some inches off my waist. Well I got frustrated I couldn't keep it up. But I kept going and absolutely fell in love with putting music on and moving my body. At the start of lockdown I saw the opportunity to be some a HulaFit instructor. With a passion for teaching already and a fun bubbly personality I decided this was just what I needed in my life. To bring my community together. To move our bodies in a fun way make new friends.
Instagram: Hulafit_spinwithamz
Hi, I'm Carrie and I'm so excited to join the HulaFit team!
I'm based in Worcestershire and my hula hooping journey has been quite a whirlwind! It's something I've become very passionate about as not only have I seen the physical benefits, but also the change in my mental health too.
It's transformed how I look at fitness and it's something I really enjoy and I can't wait to get you all hooping too!
If you think you can't do it, I'm here to say you can and to show you fitness can be fun! 
Social media
Instagram: @hulamehappywithcarriephillips
I love HulaFit because I hate being bored! I work in York and the surrounding areas, and love the joy HulaFit brings to everyone's faces – even just explaining it to someone brings a smile!
Social media
Instagram: @heather.stead Facebook: Spotlight Dance Academy
I am a mum with 2 children ( aged 19 & 12) married and love family life. I have been teaching Fitness classes for over 20yrs and i also run my own massage business from home. I love my career and i am very passionate about helping others achieve their fitness and health goals. Hooping has become one of my favourite classes to teach as its lots of fun and you dont have to be so serious, you can just rock up, grab a Hoop and enjoy getting fit with others.
Social Media
Instagram: @clairefitness_travel17
Hallo zusammen! Ich bin Rosi, komme aus Hannover und bin mit Kaddi eine der ersten HulaFit Trainerinnen aus Deutschland. Ich habe mich 2012 in den Hula Hoop Reifen verliebt und ein Jahr später meine Hoopgruppe als Hoopdance Trainerin übernommen. Im ersten Lockdown 2020 habe ich ein Fitnesstraining mit Hula Hoops begonnen – alles ist besser mit Hoops! – und damit eine weitere Reifendimension entdeckt. Ich liebe es, lustige Choreos zu Popmusik zu entwickeln – egal ob Dance oder Fitness – da passt HulaFit genau! Zur Zeit findet mein Kurs mittwochs um 19:00 Uhr CET online statt.
Hi there! My name is Rosi and I'm from Hanover in the middle of Germany. I fell in love with hooping in 2012 and I got the opportunity to teach Hoop Dance in 2013 which I've been doing since then. Through our first lockdown last year I started to add hoop fitness moves to my hooping and I discovered a whole new and wide range of hooping for me. I totally love doing funny routines to (sometimes slightly trashy) songs, so when I put together fitness workouts to pop music I realised I wanted to become a HulaFit instructor!
Social media
Instagram: @rosipeoples
Facebook: Rosi Peoples
Hello Hoopers! My Name is Kerstin, I am from Austria! I fell in love with hooping in 2018. I saw a video on Social Media of one of my former classmates from school, who danced beautifully with her Hula Hoop and did lots of fancy Hooptricks. I was immediately set on fire and had to try this too. I bought my first on Body Hula Hoop and started learning Hooptricks. In 2018 I joined two Hoopdance Teacher trainings and started giving Hoopdance Courses for Kids and adults. I love the diverse possibilities the Hula Hoop gives us. You can dance, learn fancy tricks, boost your fitness and over all it is so much fun! Lately I started to create Hoopyoga – Sequences as I am also a certified Yoga instructor. Because of that I wanted to know even more about Hoopfitness and so I joined the HulaFit Instructor training in February 2022 and I am now really happy to be part of the HulaFit Team and look forward to offering HulaFit Courses! Kerstin
Hallo Hoopies! Mein Name ist Kerstin, ich komme aus Österreich und bin hier eine der ersten HulaFit Trainerinnen. Im Jahr 2018 habe ich ein Hoopdance Video einer früheren Klassenkollegin auf Social Media gesehen. Sie hat so wunderschön mit ihrem Hoop getanzt und so tolle Tricks mit dem Hoop gemacht. Und da wusste ich, das muss ich unbedingt ausprobieren. Also hab ich mir meinen ersten Hula Hoop gekauft und habe mit Hilfe von Videos die ersten Hooptricks gelernt. Ende 2018 habe ich mich dann dazu entschlossen zwei verschiedene Trainerausbildungen in Richtung Hoopdance zu machen. Seit dem gebe ich Kurse für Kinder und Erwachsene. Ich liebe die vielfältigen Möglichkeiten, die uns der Hula Hoop bietet. Egal ob man gerne tanzt, einfach coole Tricks lernen möchte, etwas für seine Fitness tun möchte. Der Reifen bietet und all diese Möglichkeiten. Und das Beste – es macht einen riesen Spaß!!!! In letzter Zeit habe ich mich intensiver mit dem Thema Hoop & Yoga beschäftigt und wollte mich hier auch in Richtug Hoopfitness weiterbilden. Aus diesem Grund habe ich im Februar 2022 an der HulaFit Ausbildung teilgenommen. Ich freue mich rieisg, nun ein Teil des HulaFit Teams sein zu dürfen und freue mich schon auf die ersten HulaFit-Kurse, die ich leiten darf! Kerstin
Social media
Instagram: @yoopini
Facebook: Yoopini