Chloe's been spinning the plastic circle around ever since she was small enough to simply see the hula hoop as a super fun toy.
She excitedly discovered all the fitness benefits through HulaFit as a somewhat childlike twenty-something. After being a regular at our classes, both in person and online from her roof, she realised she was well and truly addicted and trained to teach in 2020.
You can expect a banging vinyl-era inspired soundtrack, moves to sculpt and sweat, and even more smiles in one of her Brixton classes.
Social media
Instagram: @chloehoopla
Facebook : Tonbridge HulaFit
Hi there! My hula journey started back in 2014 when I saw someone performing with an LED hula hoop in a club…and I just knew I wanted to learn how to do it! 7 years later and I've finally turned that passion for fitness into something I can teach you! Hula hooping is fun, cool and really great for your overall fitness levels. I can't wait to see what it could do for you!
Online classes and 1:1 options available, contact me for more details
Social media
Instagram: @saturdaynightatthesmoothies
Facebook: Saturdaynightatthesmoothies
Daisy discovered hooping through attending her first HulaFit class and smiled from start to finish – she'd never found a fitness class she actually looked forward to before!
Daisy has taught in southeast London, online and moved to Brighton in 2021. Expect eclectic upbeat tunes and boundless energy as you shimmy your way through one of her classes!
Social media
Instagram: @daisyhulafit
Hi I'm Hayley! I'm an energetic passionate person, I think if we can all breathe, move and connect, we can live a more fulfilling happy life. I have always loved hooping and dance, sharing this with others is something I've always wanted to do. So when I decided to become a HulaFit instructor it was the missing part of my puzzle to be able to share this fun fitness with you all!
I'm also a qualified hair dresser and beauty therapist and currently studying for my personal training and fitness instructor qualifications. I have four beautiful children and they also love to hoop. A fun fact about me; I'm Left handed 🙂
I offer online private classes, contact me to book a session.
Social media
Instagram: @hulahayley88
Facebook:
Hayley Crebbin
I started my hula hoop journey over 10 years ago as a teenager hooping in my back garden with my best friend 
Continued to hoop as I progressed through my school and university education, taking my weighted hula hoop to university in Nottingham with me. Going to the gym just wasn't for me and I found hula hooping to be a safety blanket I could always go back to after a bad day 
Saw the health benefits of hula hooping both on my physical and mental health (I had abs)!
Started to share my passion of hooping with colleagues when I started my first corporate job in Suffolk 
In 2020 I became determined to find my way into the fitness industry and share my love of hooping with others across Suffolk, the UK and further afield thanks to online classes. 
I found Hulafit online and completed my instructor training with Carla, and started running my classes in October 2020
Since, I have featured in my local press and live on BBC Radio Suffolk, hooping in my back garden! I am passionate about mental health and wellbeing and also participate in hula hoop related fundraisers for Suffolk Mind
Social media
I am passionate about health and fitness in all forms. I think fitness is for everyone and I believe fitness comes in all shapes and sizes. I started hooping during the first lockdown then continued during pregnancy. I am now an instructor looking to spread the fun of Hulafit and to show everyone Hulafit could be for you.
Social media:
Facebook – Staceydanielefitness Instagram – @staceydanielefitness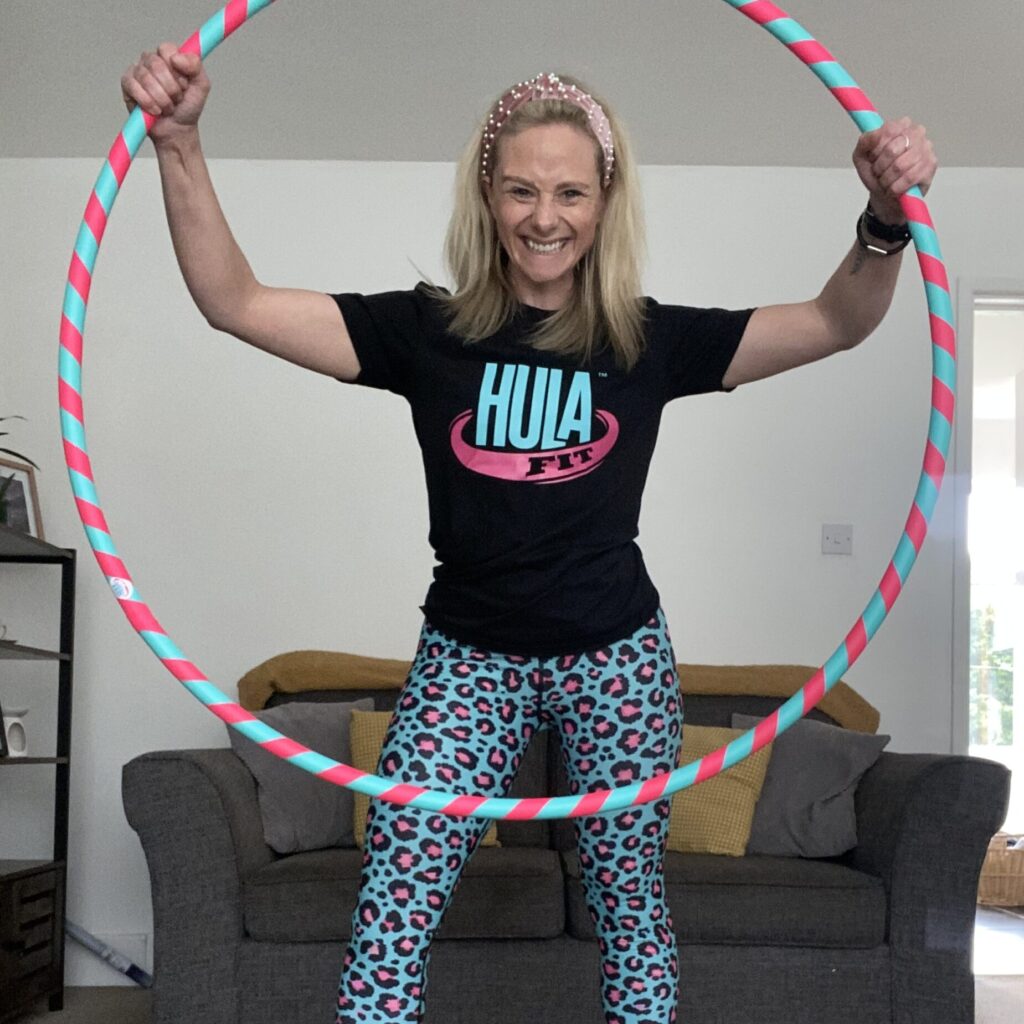 Hi I'm Amy from Nottingham. I am a drama teacher of 15 years with two lovely children and a pup called Frank.
My hoop journey started in summer 2019 when the only exercise I had ever done was running. And hooping meant I could do it from the comfort of my own home, because I wanted to lose some inches off my waist. Well I got frustrated I couldn't keep it up. But I kept going and absolutely fell in love with putting music on and moving my body. At the start of lockdown I saw the opportunity to be some a HulaFit instructor. With a passion for teaching already and a fun bubbly personality I decided this was just what I needed in my life. To bring my community together. To move our bodies in a fun way make new friends.
Instagram: Hulafit_spinwithamz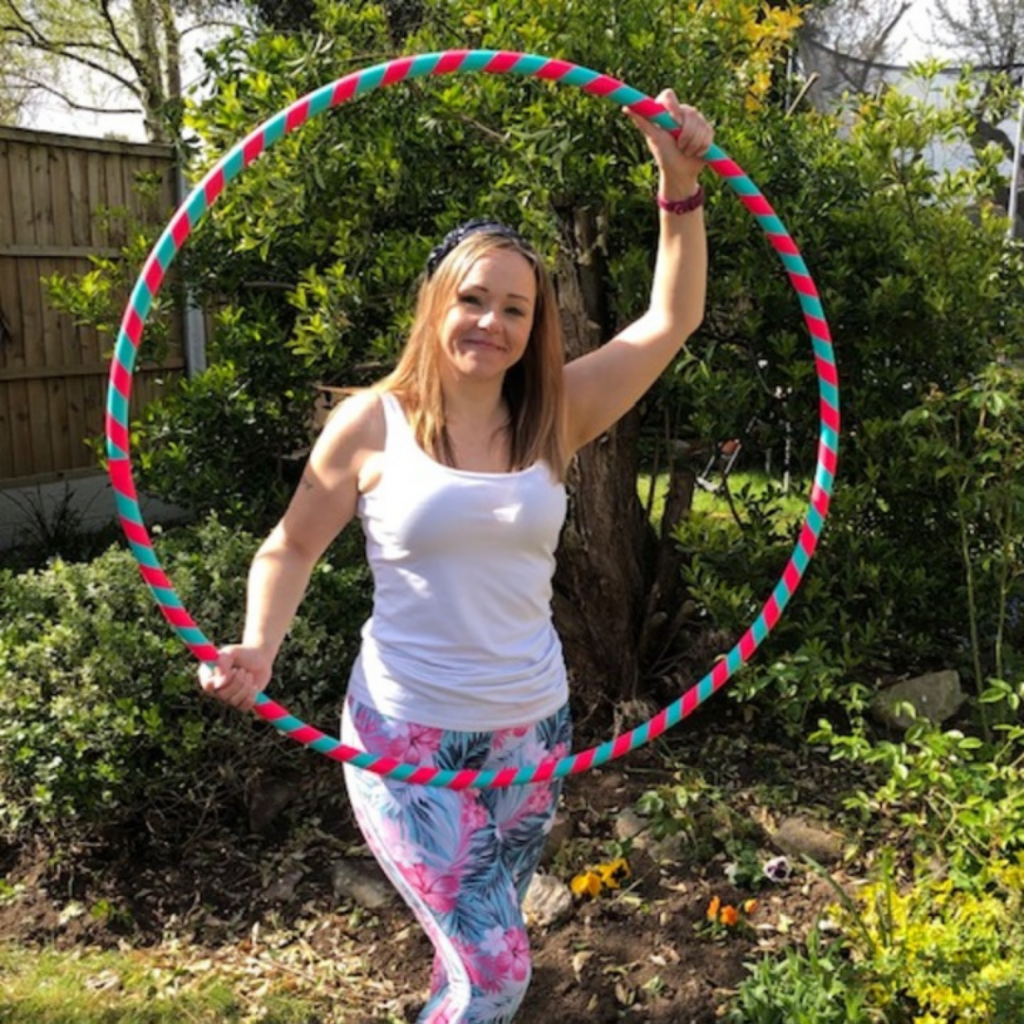 Hi, I'm Carrie and I'm so excited to join the HulaFit team!
I'm based in Worcestershire and my hula hooping journey has been quite a whirlwind! It's something I've become very passionate about as not only have I seen the physical benefits, but also the change in my mental health too.
It's transformed how I look at fitness and it's something I really enjoy and I can't wait to get you all hooping too!
If you think you can't do it, I'm here to say you can and to show you fitness can be fun!
Social media
Instagram: @hulamehappywithcarriephillips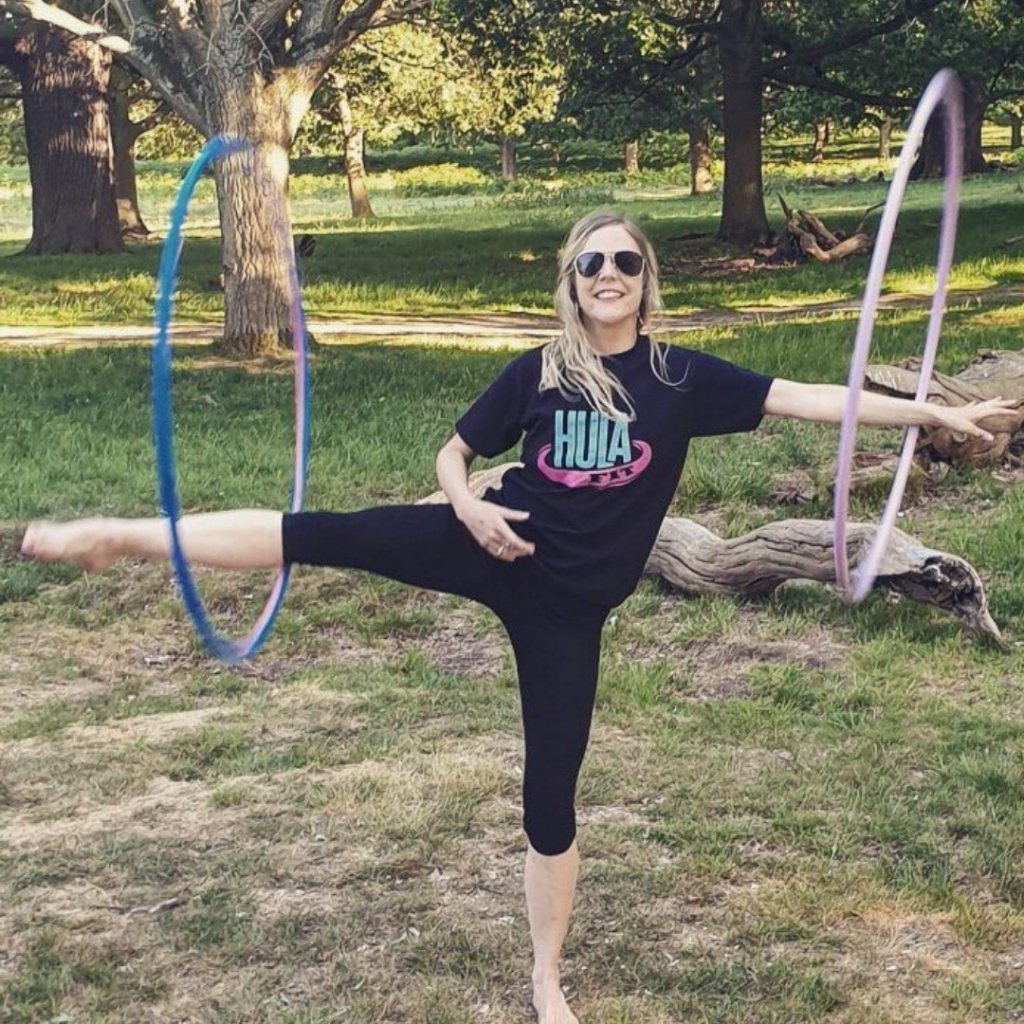 Hey!
Like lots of us, I played with a Hula Hoop growing up and I fell back in love with hooping as a 'grown up' attending Carla's Tricks Classes in 2016.
I love hooping and exercise is a big part of my life, so I decided to combine my passions and trained as a Hula Fit Instructor bringing Hula Fit to the Babs of Brum and The Black Country!
Weekly Classes are in Birmingham, Edgbaston and Wolverhampton, but I offer 1:1 / group sessions in other Midland locations and online. Classes cater for all abilities and fitness levels– no childhood experience necessary!
I am a Mental Health Nurse so recognise the importance of exercise for Physical and Mental Wellbeing – Holistic Hooping! I incorporate some philosophies of Mindfulness into classes and have a few Tricks up my sleeve…
Hoop to see you soon!
Sian J
Social media:
Instagram: @behoopy
Facebook: Be Hoopy
Hello there! My name is Katie and I'll be teaching HulaFit classes in Dublin. I first started hooping in 2019 and have been hooked ever since to this fancy, dancey fitness class. Hooping is extremely addictive and a lot of fun, but is also a really good cardio exercise. My aim for every class is to get a good solid workout done for everyone but also to see a whole room full of smiles throughout the process. I offer a range of impact levels during my class, so if you're like me and like to take it easy on your knees but also like to get a sweat on, book a class and try it out. We'll be spinning, swaying and sweating to some great tunes throughout our 45 minute classes. I also do public and corporate events and wellness days so if you, your company or anyone you know is looking for a hoopy event in Ireland please feel free to get in touch 🙂
Social media
Instagram: @hulafit_with_paddyhoops
Hey! I'm Stefie I am at the moment based in the Netherlands.
I started my journey with hula hoops about 4 years ago now. I was actually looking for something different and fun to stay in shape and I was quite done with the "normal" gym when I found Hulafit classes. After my first class, I got totally hooked and since that day I am crazy about it! Not so long after I have also met Carla for my first hula hoop tricks classes and from this time to now I haven't stop hooping. Hooping is not only a good exercise but it makes me happy, it is fun and awakens the inner child that we tend to forget once we become adult. I am at the moment, offering online classes so drop me an email or dm me on Instagram for more details.
Social media
Instagram: @hulafitwithstefie
Hallo zusammen! Ich bin Rosi, komme aus Hannover und bin mit Kaddi eine der ersten HulaFit Trainerinnen aus Deutschland. Ich habe mich 2012 in den Hula Hoop Reifen verliebt und ein Jahr später meine Hoopgruppe als Hoopdance Trainerin übernommen. Im ersten Lockdown 2020 habe ich ein Fitnesstraining mit Hula Hoops begonnen – alles ist besser mit Hoops! – und damit eine weitere Reifendimension entdeckt. Ich liebe es, lustige Choreos zu Popmusik zu entwickeln – egal ob Dance oder Fitness – da passt HulaFit genau! Zur Zeit findet mein Kurs mittwochs um 19:00 Uhr CET online statt.
Hi there! My name is Rosi and I'm from Hanover in the middle of Germany. I fell in love with hooping in 2012 and I got the opportunity to teach Hoop Dance in 2013 which I've been doing since then. Through our first lockdown last year I started to add hoop fitness moves to my hooping and I discovered a whole new and wide range of hooping for me. I totally love doing funny routines to (sometimes slightly trashy) songs, so when I put together fitness workouts to pop music I realised I wanted to become a HulaFit instructor!
Social media
Instagram: @rosipeoples
Facebook: Rosi Peoples
Moin! Ich bin Kaddi und eine der ersten deutschen HulaFit Trainerinnen. Als Kind habe ich stundenlang mit dem Hula Hoop gespielt und im letzten Jahr meine Liebe dazu wieder entdeckt. Seitdem gibt es für mich fast keinen Tag, an dem ich nicht huuler. Hula Hoop ist ein toller Ausgleich, er bringt Dich und Deinen Körper in schwung, macht Dich fit und bietet Dir ein großartiges Ganzkörperworkout! Aktuell biete ich meine Stunden montags Abends um 20:15 Uhr via Zoom an. Sobald das Wetter besser wird, finden die Stunden dann Outdoor auf dem Gelände des TSV Weddelbrook statt. Ich freue mich auf Dich! Kaddi
Hello! I am Kaddi and one of the first German HulaFit Instructors. As a child I played with the hula hoop for hours and last year I rediscovered my love for it. Since then, there hasn't been a day for me that I don't hula hoop. Hula Hoop is a great balance, it gets you and your body going, makes you fit and offers you a great full-body workout! I currently offer my lessons on Monday evenings at 8:15 p.m. via Zoom. As soon as the weather gets better, the lessons will take place outdoors on the grounds of TSV Weddelbrook. I'm happy for you! Kaddi
Social media
Instagram: @fitmitkaddi
Facebook: Fit Mit Kaddi