When it comes to hula hooping and pregnancy, it's understandable that many pregnant parents are cautious. You may wonder: 'Is it OK for a giant plastic circle to be swinging around my middle when I'm growing an actual human being in there?' or 'is a weighted hoop too heavy to use when I'm pregnant?' So what's the dealio? Is hula hooping a no-go?
I'm totally new to hula hooping. Can I give it a go while pregnant?
We strongly recommend you don't take up hula hooping for the first time during pregnancy. We repeat: this is not the time to learn how to hula hoop.

"It isn't advisable to start any sort of new fitness activity when you are pregnant, including hula hooping." – Sophie Carr, Hula Hooper and Level 3 personal trainer
Hula hooping builds core strength. If you are taking it up for the first time you may not have the strength in your tummy muscles to protect your baby bump while hooping. This is especially true in the first trimester. When you take up hooping, you are learning a new technique and naturally won't have as much control over the hoop. For example, it may fly off in different directions and bruising around your torso is common when you first start hooping.
But I've been hula hooping for ages, can I hoop my way through pregnancy?
If you have been hooping for a while, you will have the core muscle strength and coordination to hoop in a safe and effective way throughout your pregnancy. You can hoop to your hearts content, or you may not want to at all – and that's ok too!
It's super important to listen to your body (and your doctor!) – some moves may not work for you while you are pregnant, you may need to take it easier, use a lighter hoop or you may prefer hooping on different parts of your body to avoid the bump. 
Hooping after pregnancy
Hula hooping is unlikely to be top of your to-do list right after welcoming a new life into the world. However, if you're super keen to jump back into the plastic circle after you've had your baby, it's important to wait for your body to heal and talk to your doctor before taking up or resuming hula hooping.
Everybody's pregnancies can be incredibly different, so what's right for one body won't be right for another. You may be feeling particularly sensitive in your stomach area, especially if you have had a cesarean. The general medical advice is to wait three months before exercising again after a cesarean. Most pregnancies will result in diastasis recti, the separation of your abdominals. In this case you will need to strengthen your abdominal wall with gentle core exercises before being able to pick up a hula hoop again. Everyone's bodies heal at different rates, so consult your medical professional first.
Some hula hoop instructors recommend that you do not hula hoop on your chest while breastfeeding. This is because the pressure may increase the risk of mastitis.
"Hooping is hard at first. it's even harder if you're picking up the hoop for the first time after having a baby. It's important to check (or ask your GP) for diastasis recti (when your front abdominal wall separates from carrying your big load!) as you could do damage. But there are simple exercises you can do to bring these muscles back together before hooping!" – Sally, hula hooper and fitness coach
See below for a few stories from some of our fabulous hula hooping friends about their own experiences.
Personal stories
Sian
We asked three of our hoopy buddies to share their experiences of hooping throughout their pregnancies and after childbirth. Their experiences are unique, like how each pregnancy is unique – so their experiences may not mirror yours. However, it's great to hear from these wonderful women who have first-hand experience of hooping through their pregnancies.
Sian hooped for three years before becoming pregnant. She told us:
"One great thing about hula hooping is it's variety, so I was able to keep doing different things over the course of the pregnancy! At the start, I was still doing on-body moves for fitness and multi hoop splitting. As the bump got bigger, I moved to on body hooping but not on my tummy (chest and legs), then even later moved to off body tricks and flow based dance. Nausea and exhaustion were the only things holding me back!"
Sally was a keen hula hooper before having her first child. But, found it difficult to hoop throughout her pregnancy:
"I had been hooping for seven years prior to falling pregnant and I was seriously addicted! I was out most nights at hoop classes or jams or training and absolutely adore our wonderful London hoop community to pieces.
"When I fell pregnant I found it really difficult to hoop. I suffered from pelvic girdle pain for about 16 weeks so even walking for more than 15 minutes at a time was causing too much pain to bear. Sadly I had to put down the hoop for over a year. But that didn't stop me from going to events & being amongst the community.
"I picked up my hoop for the first time when I was 3 months postpartum (I had a c-section FYI) and it hurt so much. I thought that was it for me and hoops. But after I went back to work when I was 7 months postpartum I fell into a much better routine of looking after both myself and a small person and managed to find about 10 minutes to waist hoop 2 or 3 times a week. And gradually that built up slowly until after a year my muscles gradually got back to their former selves, as did I.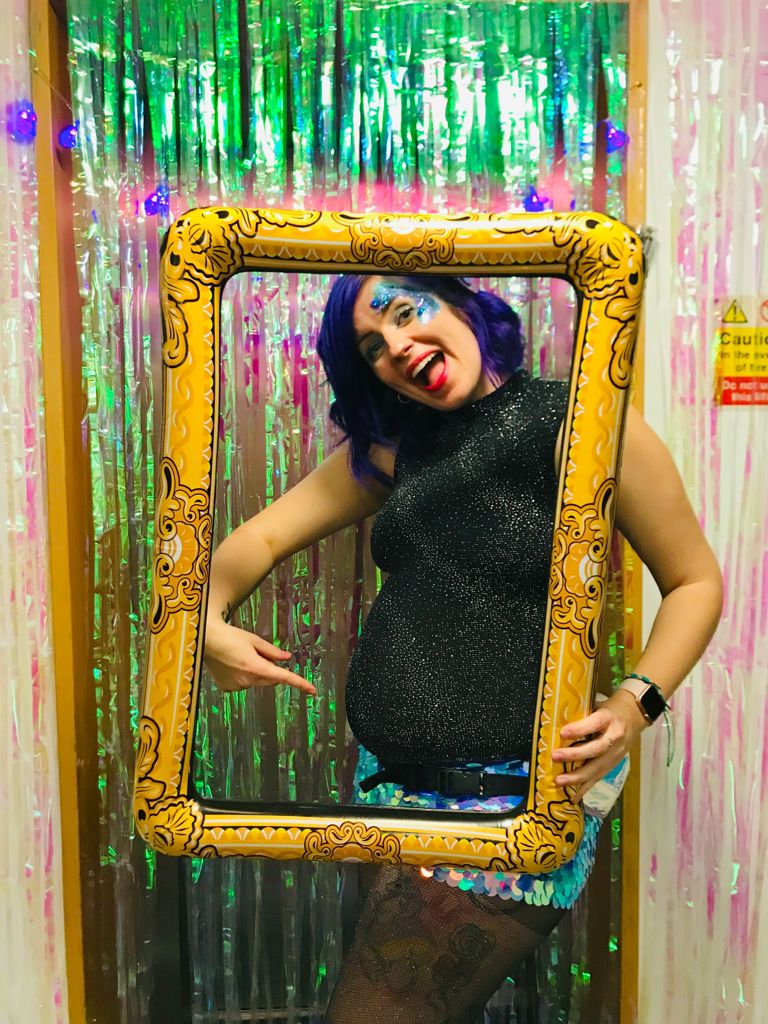 Warda has found so much pleasure in hula hooping, having recently had a child. She said:
"Hooping has been a way to reconnect to my core which felt so disconnected from my body after birth. It has also been a key tool to recapture my sense of self and independence after having a baby."
"My hoops have been brilliant toys to introduce to my baby daughter as she's been growing up and noticing the world around her. Initially, she was interested in watching their motion and now when we play she enjoys interacting with them."
Thank you to our wonderful hooper friends for contributing to this blog. We hope it has helped you make more informed choices about hooping and your pregnancy. But, remember, what's right for one person won't be right for everyone, so listen to your body – and your doctor/medical professional!