'What hula hoop should I buy as a beginner?' This is our most-asked question at HulaFit. Look no further than this handy guide.
Are you a beginner hooper? Are you thinking about buying your first hula hoop? Feeling overwhelmed by the broad range of sizes, weights and colours and don't know where to start? You're in the right place.
Buying your first hula hoop is your first step towards a fantastic hobby that will help you feel happier and healthier. Well done you. You're going to love it!
TL;DR If you're short on time, there's a handy summary at the end.
One size does not fit all
Whoever said size doesn't matter clearly wasn't talking about hula hoops. When working out what hoop you should buy, size is one of the most important decisions you can make.
Have you ever seen a kid spin a hula hoop around their waist with ease, then you have a go, and it comes crashing to the ground before you've even managed one rotation? That's because one size does not fit all – it's not you; it's physics. So put down that child's hoop and pick up one designed for adults.
It's so important to make sure you get the right size hoop when you're just starting out, to ensure a positive, motivating experience. When people try to learn with a hoop that is too small, they often give up quickly, feeling frustrated, not realising they just need a different size hoop. This is especially important if you are plus-sized. Check out our blog about size inclusivity and hula hooping here.
Using a larger hoop gives you time to perfect your hula hooping technique. Larger hoops slow down the rotations around your body to give you time to feel the rhythm and respond by pushing against the hoop with your stomach and back. As you become more confident with your hip-shaking, you can gradually reduce the size of the hoop (if you want to).
Thanks for the physics lesson, but what hula hoop should I buy?
We'd recommend a hoop no smaller than 38 inches in diameter, when you begin. Aim for a hoop to come up to at least your belly button from the ground. If you are taller, curvier or have a larger waistline, you'll need something larger than this. If in doubt, go larger. You can always size down in the future as you become more confident with your hooping, but using a hoop that's too small can be a frustrating experience!
At HulaFit we offer three sizes of hula hoops:
R – 40″ diameter – these work well for people with slimmer waists or people who are shorter
L – 42″ diameter – a great first hoop for lots of people
XL – 44″ diameter – these hoops are great for plus-sized hoopers. The larger your waist the larger the hoop you'll need.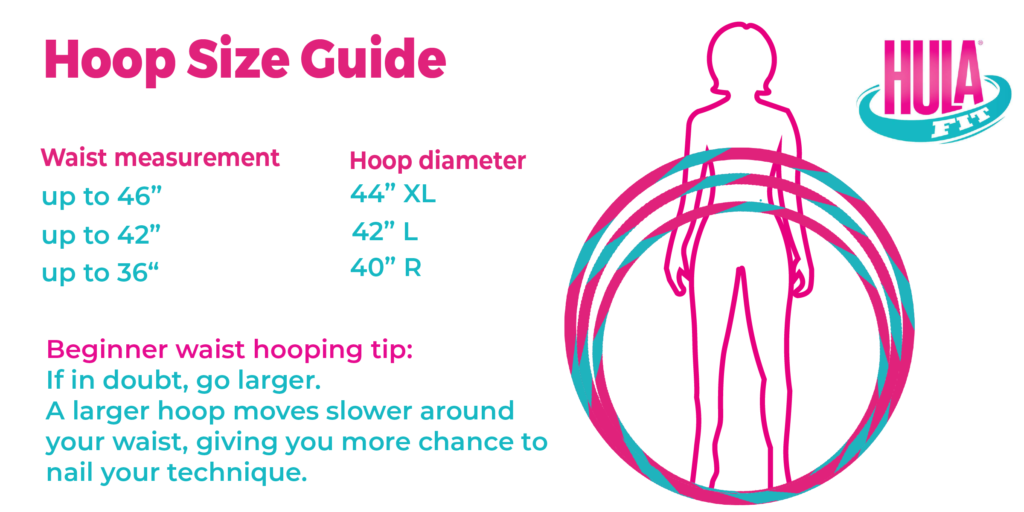 Technique matters more than hoop weight.
Training a weighted hoop will help strengthen your core muscles, so the heavier the hoop, the better, right? Not always. There's a common misconception that the heavier your hoop is, the more calories you will burn. This is simply not the case. The added weight creates more resistance which will help to tone your muscles more, but you can burn a similar number of calories using a lighter hoop as you have to move faster to keep it up.
The size of the hoop is much more important than the weight for beginners. Once you nail your technique, you can start to introduce heavier hoops. Remember: engage those abs – if your core isn't tight, you won't get the full benefits of hooping. Top tip: in every HulaFit class, we cover waist hooping technique, so come along and learn from the pros.
We'd also recommend never going for a hoop over 1.25kg as they can be painful to use and come with a higher risk of injury. Heavier hoops limit the amount of time you can spend hooping, and restrict the amount of movement you can do – which takes away half the fun! Heavy, padded hoops that are sold as 'massage hoops' have unnecessary ridges and knobbles that cause nasty bruising. (Some light bruising is normal when you start your hooping journey. If you develop bruises, give it a few days rest – we don't want you hurting yourself)
Also, we beg you; please do not use weighted hoops on your neck, arms, chest or knees. They're too heavy, and you'll hurt yourself.
Where to get your hoops from:
As a small company ourselves, we love recommending other small businesses. Of course, you can buy a hoop on the international online megastore named after a South American rainforest, but here are our favourite small businesses that you can support:
We might be biased, but HulaFit makes superb weighted hoops in a range of sizes.
We'd recommend Naked Ambition for a superb range of hoop sizes that go up to 56 inch diameter – just make sure you've got enough space in your garden to spin it around!
Hoopspin also make a broad range of hula hoops, for both hoop workouts and tricks! Use Hulafit Director's Carla's code cahula for 10% off!
All that info in a nutshell
In summary, here are our most important points when buying a hoop as a beginner hooper:
–Size matters – the bigger the hoop, the easier! AT LEAST 38 inches for new hoopers, but bigger is better. Especially for plus size hoopers.
–Focus on technique over hoop weight – get to grips with your thrust and engage your core, and the rest will fall in place. Heavier isn't always better.
–Support small businesses when you buy your first hula hoop – it makes an actual person do a happy dance!
And a final warning: Hula hooping is highly addictive. HulaFit will not be held responsible for your ever-growing hoop collection and any scuff marks on your living room walls from hooping indoors. Enjoy your new hobby – you won't regret it!