Christmas is coming, so we've put together the ultimate hula hoopers Christmas wish list. Whether you're just starting out on your hula hoop journey, or are a seasoned pro – these gifts will make you spin with joy!
Plus, if you're signed up for the HulaFit newsletter before the 3rd of December you'll get yourself a few cheeky discounts with some of the brands featured. Sign up for the newsletter today so you don't miss out.
If you're a hooper, make sure your partner/family or friends see this blog so they know what to do… or just treat yourself. Let's jump into it!
Hoops from Hoopspin
We couldn't start the ultimate hula hooper's Christmas wish list without including hula hoops, right? We love HoopSpin so much that Carla, our director, is an ambassador for them.
HoopSpin is run by the fabulous Gail in Northern Ireland – she's passionate about high-quality hula hoops and stocks an amazing array of colours to suit anyone's taste – whether you're a bright colour queen or prefer subtle shiny hues.
Top hoop-buying tips for gift-givers
Hoop sizes are deeply personal and specific to each hooper, and picking the wrong sized hoop can be the difference between a hoop being used every day or gathering dust behind the sofa. The best way to guarantee the right size hoop is to ask them for advice, but here's a quick guide that could help if you don't want to spoil the surprise:
Beginner Hoopers: They'll want a larger beginner hoop of 39inch diameter or larger for practising on-body (check out our blog: What hoop should I buy as a beginner?), and a smaller hoop (28-32 inch diameter) if they want to learn tricks on their hands.
Intermediate hoopers: As hoopers get more confident, their hoop sizes shrink – try a 34-36 inch hoop for on-body as a step up from a beginners hoop. Goldilocks is a great option for people moving towards a lighter hoop. A 28-32 inch hoop is still great for hand tricks though. If they want to dip their toes into twins (two hoops) a pair of hoops around 28-32 inches will work great – shorter hoopers closer to 28 and taller closer to 32.
Advanced hoopers: We'd say, let them pick their own hoops – they'll know better than anyone what they need. HoopSpin does excellent hoop vouchers, so stick to them – plus they don't look as blatant wrapped under a Christmas tree.
Ask Gail at HoopSpin – we're sure she'll answer all your hoop-related queries.
Hula Queen tops – HulaFit
Yes, Queen! We love a fun, comfy top to hoop in. Head over to the Hulafit website for Hulafit branded and hula queen tops to suit different people's tastes.
We spent a great deal of time picking flattering designs so our hoopers feel confident and fantastic in our hoopy garms. They look fab with leggings or shorts, or even a pair of jeans for when you're out and about.
If you're signed up for the newsletter by 3rd December you can get 25% off. Discounts like this don't happen very often, so now's your chance!
Leggings – Blue Booby
Speaking of leggings – how does 10% off at Blue Booby sound?
Blue Booby is one of our favourite brands for leggings as they're created with hoopers in mind. Many other leggings brands can be slippy, which is a pain when you hoop on your legs. Blue booby leggings are grippier, and leg-hooping friendly! Also, they have the most amazing array of fun patterns. Yay!
Socks – Ballonet Socks
Cosy, snazzy socks are essential for hoopers. We adore the lovely Ballonet Socks. Ballonet socks is a London-based female-owned business creating high-quality unisex socks.
Their cotton socks are polyester-free, meaning they're bright, eye-catching and durable. More importantly, they're soft and super comfy. Perfect for toasty toes during outdoor winter hoop jams.
Make sure you're signed up for our newsletter for a cheeky 10% off.
Boss booty shorts – Hoop Hustle Flow
Who likes short shorts? We certainly do, as hoops love bare skin. Ok, so we might not be wearing these fab Boss Booty Shorts from Hoop Hustle Flow in the bleak January weeks, but they're still a must-have gift for hoopers. They're high waisted, flattering and it means you can get your legs out and practise knee hooping… probably indoors for the next few months though!
Hoop tape – One Stop Hoop Shop
Good grip tape is the difference between a frustrating hoop session and having a great time. It helps the hoop grip to your clothes/body and can really help level up your progress.
You can also get all kinds of beautiful tapes that add sparkle to your hoop. Although slightly less practical it looks incredible – especially when your hoop catches the light!
We especially like the eco-friendly grip tape from One Stop Hoop Shop. Any tiny wins for the planet are wins for us.
Make sure you're signed up to our newsletter for 10% off grip tapes from One Stop Hoop Shop.
Hand cream and shower pebble – Tropic
Hooping outside in the winter can be tough on your mitts. A good hand cream goes a long way, such as deeply moisturising Superfood Hand Cream from Tropic.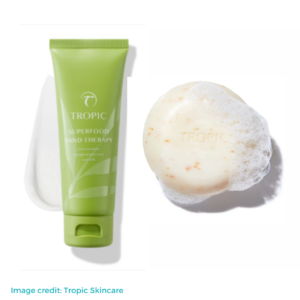 After a good hooping sesh it's important to get squeaky clean. This shower pebble from Tropic will get you feeling fresh in no time.
Tropic use all-natural ingredients and are cruelty-free – sounds good to us!
Talk to HulaFit instructors and Tropic Ambassadors  Caz or Carrie to make your purchase.
Speakers – Minirig
We simply had to feature a speaker, right? Where's the fun in hooping without banging tunes to get down to?
We love Minirg as they are the most powerful speaker for their size. They have 100 hours of battery life, you can charge your phone from them (handy for festivals), and you can link them together to create mega speakers for the ultimate hoop jam.
We like that you can buy them directly from Minirig themselves, and they're designed to be fixable (by them) which is a big green thumbs up from us as so many electronics end up in landfill.
Although we haven't nabbed a discount code for you for these – we think they're an amazing company that you should check out.
House of Marley Wireless Headphones
Unfortunately, hula hoopers can't always blast their tunes at full volume. Wireless headphones are a winner for hoopers as the wires don't get caught in your clothes, or you don't have to worry about your phone falling out of your pocket.
Our top pick is True Wireless Earbuds from The House Of Marley. We love that they prioritise sustainability, using natural materials and minimising unnecessary plastic. They also support reforestation and ocean preservation initiatives.
Although we don't have a discount code for them – you can bag yourself 15% off by signing up for their newsletter.
Final thoughts
And there we have it! Our top pressie-buying guide for hula hoopers. Do you reckon we've thought of everything in our ultimate Christmas wish list for hula hoopers? Send this list to your loved ones so they know exactly what to get you this year.
Don't forget about the newsletter sign up for those fab discounts!